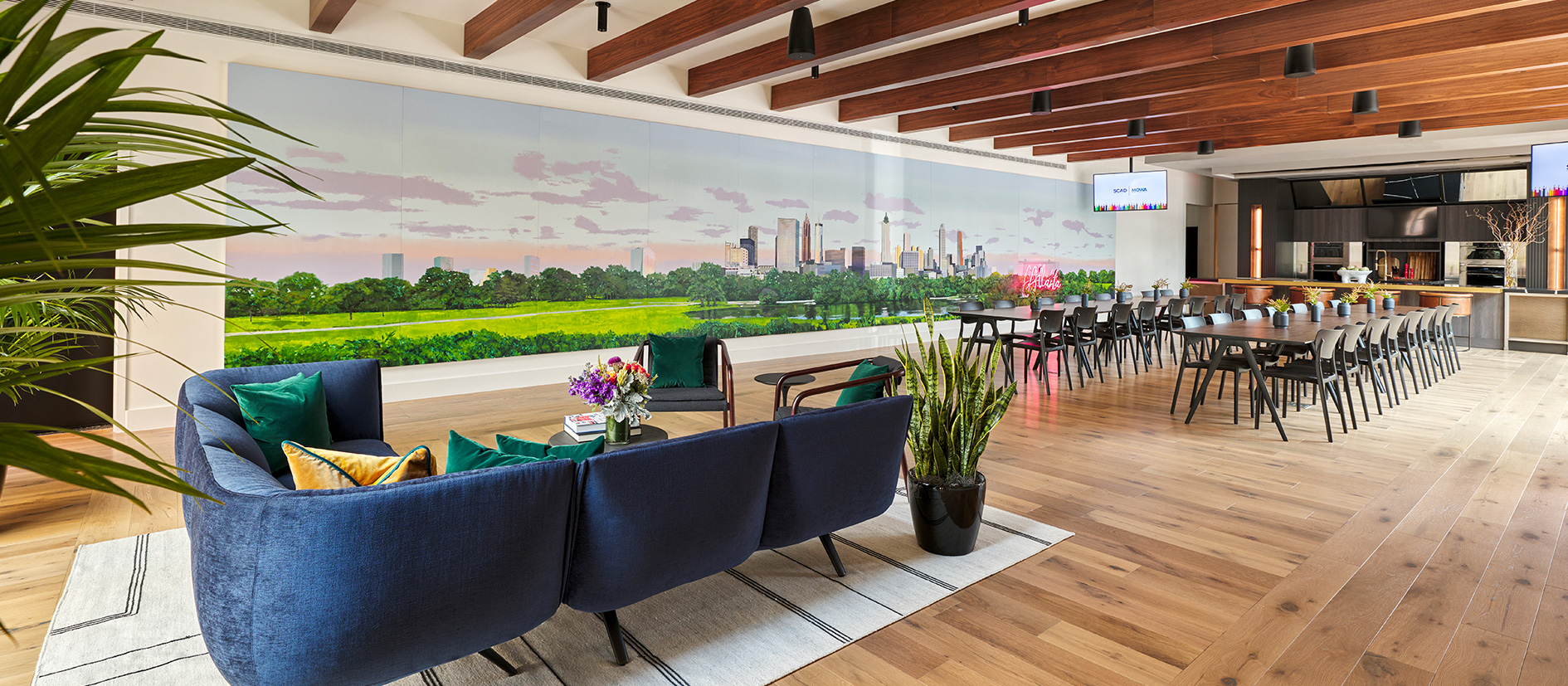 SCAD is honored to collaborate with Meals on Wheels Atlanta (MOWA) to curate a selection of more than 50 works by SCAD artists to illuminate and enliven the organization's new headquarters in West Midtown and its adjacent venue space. The university proudly affirms its long-standing relationship with MOWA, in support of the organization's commitment to aid seniors in Metro Atlanta struggling with food insecurity. The collaboration exemplifies the mission of SCAD's community service design studio, SCAD SERVE, which focuses on uplifting local communities with design-driven solutions in the critical need areas of food, shelter, clothing, and the environment. It is the university's and the artists' hope that the works on view offer continued inspiration to volunteers, guests, and the communities MOWA serves.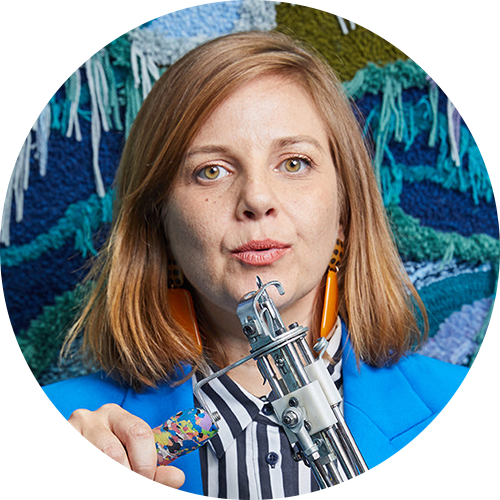 Trish Andersen
Interdisciplinary artist Trish Andersen (B.F.A., fibers, 2005) creates site-specific installations combining fibers gathered from field to factory floor. Andersen explores the synthesis of temporal, cultural, geographical, and interpersonal boundaries. Typified by an unexpected and varied tactile quality, her work is at once vibrant and muted, sleek and wild, soft and coarse, cut and looped. Andersen has been commissioned by companies including Anthropologie, Mercedes-Benz, Google, HP, and Coca-Cola, among others. She was a SCAD Alumni Atelier ambassador in 2015. In 2022, Andersen and her husband, SCAD alum Michael Porten (M.F.A., painting, 2012; B.F.A., illustration, 2004), were featured in The New York Times.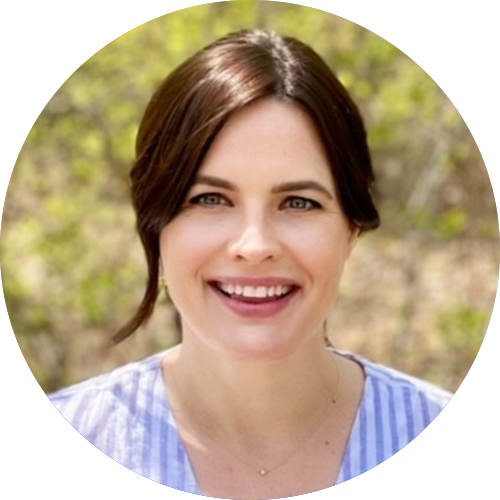 Lauren Coggins-Tuttle
In her work, Lauren Coggins-Tuttle (M.F.A., painting, 2013) explores notions of impermanence and duality, modernizing classical subjects through the combination of abstraction and figuration. Her ephemeral paintings are ruminations on the cyclical nature of formation and deterioration in which growth and death coincide. Coggins-Tuttle has shown across the U.S. and internationally in France, Italy, and Hong Kong. Her work is held in the private collection of President Barack Obama and former First Lady Michelle Obama.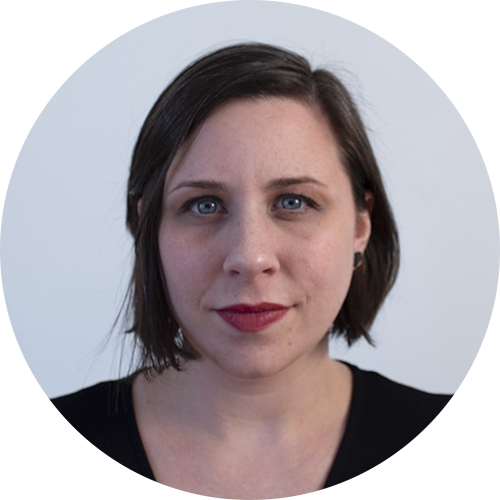 Adrienne Dixon
VIEW ARTWORK
Adrienne Dixon (B.F.A., painting, 2011) engages the material obsessions of a fast-paced society through color, shape, pattern, and texture. Her work has been shown in group exhibitions across the U.S. as well as solo exhibitions in southern Maryland. In recent works, Dixon has employed mixed media on panels with embellishments of glitter, embossing powder, dried paint shavings, and resin. A visiting artist at Paul G. Blazer High School, Great Mills High School, and St. Mary's College, Dixon is a studio and gallery manager at Yellow Door Art Studio, a community art school located in Leonardtown, Md.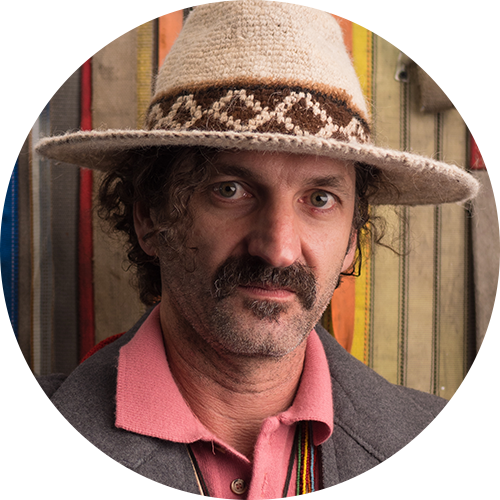 Marcus Kenney
Marcus Kenney (M.F.A., photography, 1998) works across varied mediums including sculpture, painting, photography, and neon. Kenney's narrative works reflect America's melting pot of culture and consider issues like consumerism, environmentalism, religion, mortality, identity, race relations, and authority. He has exhibited in museums, institutions, galleries, and art fairs internationally, and his work has been featured and reviewed in Art in America, New American Paintings, Art Papers, The New York Times, and ARTnews, among many others. Kenney's eponymous monograph was published by SCAD in 2008 and distributed by Artbook | D.A.P.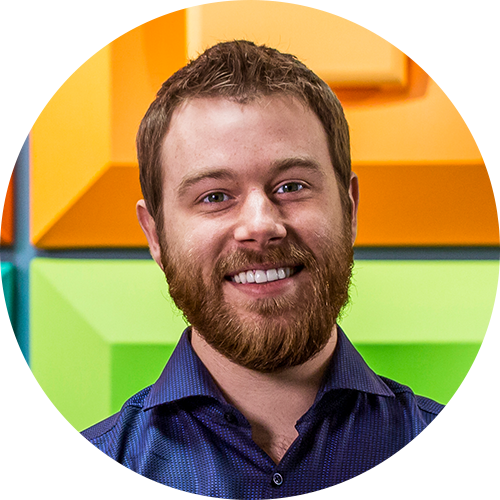 Tim Kent
VIEW ARTWORK
Tim Kent (B.F.A., painting, 2014) creates minimalist paintings and installations that reinterpret the color relationships among different shades and saturations. Kent's work has been featured in publications such as New American Paintings and shown in exhibitions at venues throughout the Southeast including the Nerman Museum of Contemporary Art, Overland Park, Kansas, and the Museum of Contemporary Art of Georgia in Atlanta. Kent was a SCAD Alumni Atelier ambassador in 2017.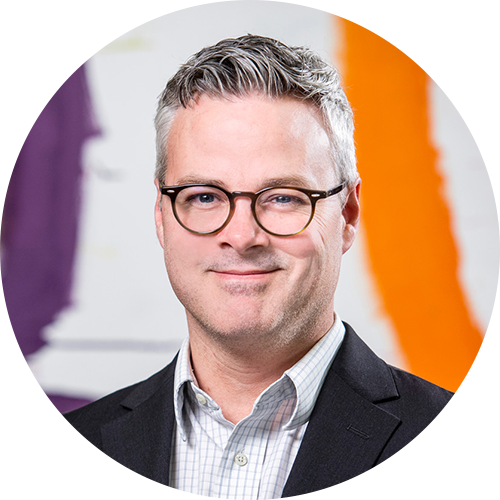 Kent Knowles
While Kent Knowles (professor of painting; B.F.A., painting, 1997) focuses on the traditional and technical aspects of painting, his work also examines the expressive qualities of figure, pattern, and design in contemporary art. The characters that populate his work are usually women in perilous situations. Knowles' most recent work engages notions of everyday life and family. Knowles' children's book Lucius and the Storm was published by Red Cygnet Press in 2007. A new book, titled The Realm of Smaller Things, is forthcoming from Ventorros Press.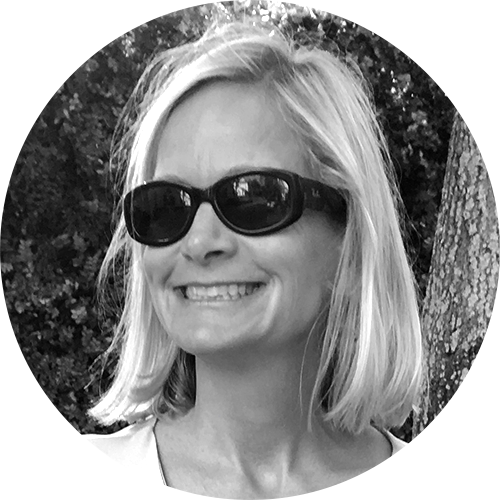 Abigail Chase Miller
VIEW ARTWORK
Abigail Chase Miller (M.A., sculpture, 2019) is from New York City. Inspired by living in the moment and capturing those fleeting precious moments in her paintings. Abigail's paintings are balanced and reflect her knowledge of color in combination with appealing compositions from her daily walks always in search for the next ideal composition to paint. In the past, her paintings have been exhibited at Besharat Contemporary, Atlanta, Georgia, at the Carrollwood Cultural Center, Tampa, Florida. Abigail was the Invitation Artist for Martinis and Matisse, fundraising event in 2017. Her work was featured in the Best of Tampa Bay Magazine May-June 2012 issue as well as Voyage ATL, 2019 and Arts ATL, 2019. In 2015 she was nominated as one of the Top 100 Artists in Tampa Bay by Creative Loafing Magazine.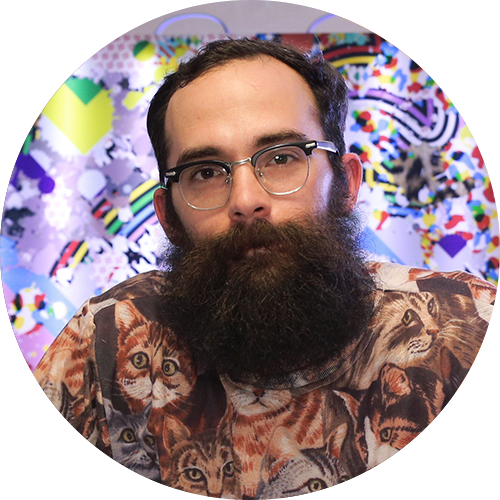 Michael Porten
Through sculptural works and paintings, Michael Porten (M.F.A., painting, 2012; B.F.A., illustration, 2004) has carved his own aesthetic niche. He draws inspiration from contemporary pop culture and iconography, making references that range from Vonnegut to Voltaire. Porten has exhibited in solo and group exhibitions in the U.S. and abroad at venues including Galeries de l'Olivier, Lacoste, France; The Late Show Gallery, Kansas City, Missouri; the Artery Gallery, Miami, Florida; and SCAD Gallery, Hong Kong. His work is held in the Mercedes-Benz Stadium collection.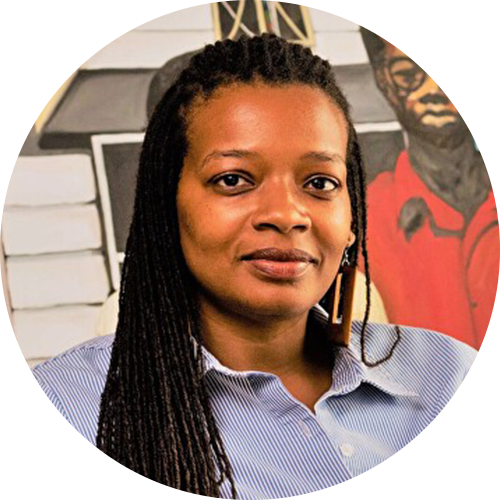 Ayana Ross
VIEW ARTWORK
In her figurative work and portraiture, representational artist Ayana Ross (M.A., painting, 2021) explores the human experience, engaging issues of race, family, and heritage in the American South. Winner of the prestigious Bennett Prize in 2021 and featured in American Art Collector magazine in 2022, Ross has exhibited her work in shows and galleries throughout the Southeast. Her commissioned works are held in various private collections. In addition to her painting and printmaking practice, Ross teaches secondary art education.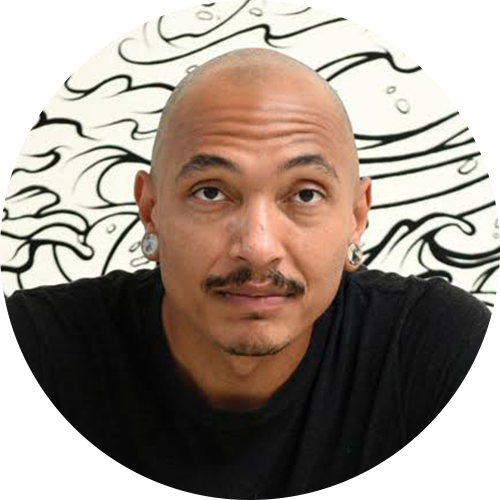 Brandon Sadler
One of Atlanta's most prolific artists, Brandon Sadler (B.F.A., illustration, 2009) founded the studio Rising Red Lotus after graduating from SCAD. He is renowned for murals that balance both ancient and modern techniques through the use of text, illustration, and painting. Cultural connectivity is a central component in Sadler's work. His imagery speaks to the universal human condition, engaging concepts related to perception and self-actualization. Sadler's work has been the subject of both solo and group exhibitions and is held in the collection of the High Museum, Atlanta. His clients include Marvel Studios, Disney, Adidas, and Google, as well as the Atlanta BeltLine and the Afro Punk Festival. Sadler was honored with a SCAD Distinguished Alumnus Award in 2019.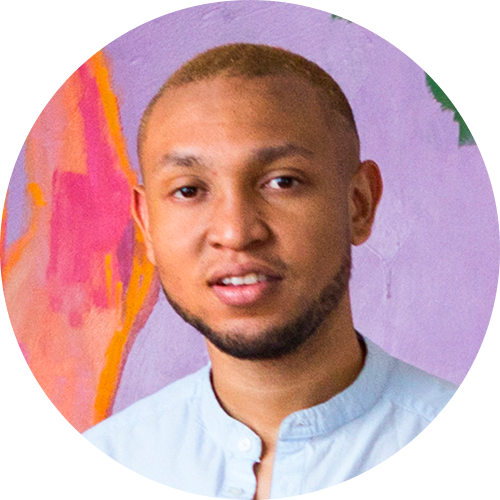 Hasani Sahlehe
Hasani Sahlehe (B.F.A., painting, 2015) approaches his artistic practice through the unique perspective of his Caribbean heritage. Working in a bright color palette with energetic brushwork, he investigates the fluidity of culture, the transfer of information, and how past cultural influences inflect the future. His work has been shown in numerous exhibitions at venues including MINT Gallery, Atlanta; the SCAD Museum of Art; and Atlanta Contemporary. Sahlehe was a 2017 SCAD Alumni Atelier ambassador and a 2018–19 MINT Gallery Leap Year Fellow. His work has been covered in Burnaway, Atlanta Magazine, and City Lights, and is held in the Microsoft Permanent Art Collection and private collections throughout the U.S., Virgin Islands, and Great Britain.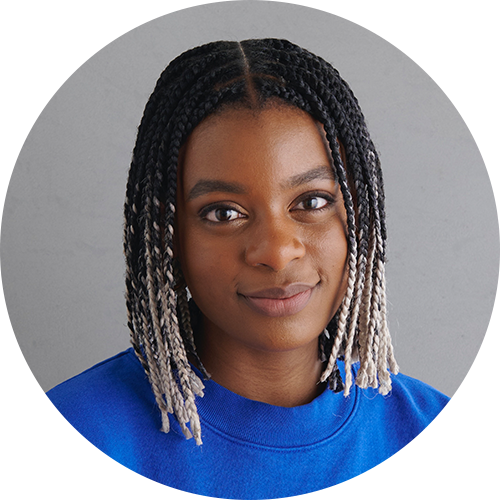 aliyah salmon
aliyah salmon (B.F.A., fibers, 2018) is a multidisciplinary textile artist. Her studio practice explores the playful relationships between color and form as well as the rich heritage of Black identity through a variety of tactile mediums.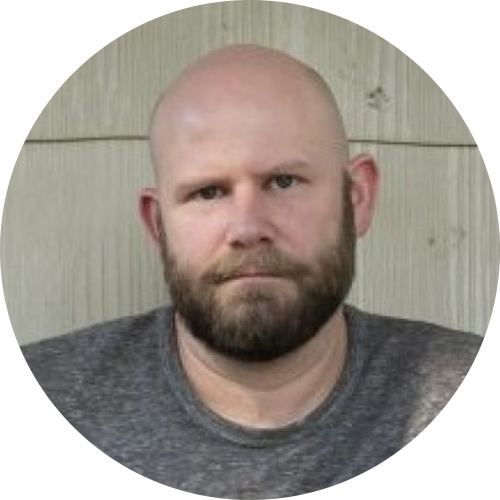 Chris Skeene aka Blockhead
Inspired by his collection of Pez dispensers and art toys, such as figures by Bearbrick or Kidrobot, Chris Skeene (B.F.A., photography, 2006), aka Blockhead, brings variety to the repetition of a singular form. He extends the unique nature of blockhead figures by inviting collaborators to bring their own styles to their blank canvases. Skeene believes in the infinite possibilities of his chosen medium and enjoys the processes of experimentation and collaboration.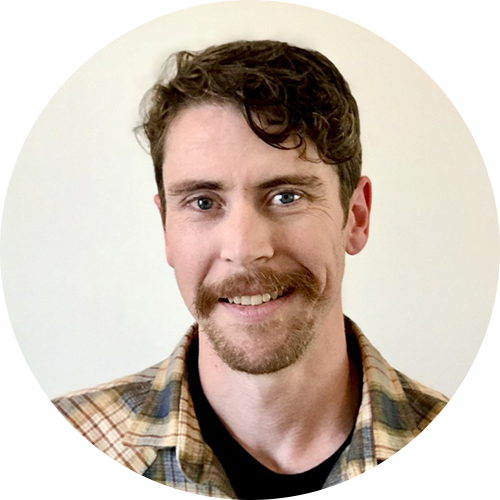 Dan VanLandingham
In his paintings, Dan VanLandingham (M.F.A., painting, 2012) interprets the physical and cultural changes that humans have made to the natural landscape of the island of Martha's Vineyard. His work has been reviewed in American Art Collector, New American Paintings, The New York Times, and Art Business News, and is held in the Mercedes-Benz Stadium collection and the private collection of President Barack Obama and former First Lady Michelle Obama. VanLandingham also co-owns The Workshop Gallery in Martha's Vineyard.